14febAll DaySisters of St. Dominic of Amityville - Opening the Doors to the Jubilee
Event Details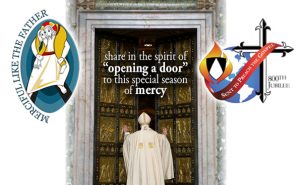 Soon we will enter the season of Lent.  It is a time of grace and mercy given us each year to reflect and prepare for the renewal of our Baptism at Easter.  In this year the Lenten season intersects with two graced moments: the observance of the 800th Anniversary of the Order and the Jubilee Year of Mercy inaugurated by Pope Francis.
On the First Sunday of Lent we will observe a simple "Opening of the Jubilee Door" in the Motherhouse at the beginning of the Eucharist, and invite all-at home, in local gatherings, to share in the spirit of "opening a door" to this special season of mercy.
To cross a threshold, to enter a new space- signifies finding new energy for the works of hospitality, compassion and mercy.  This is the invitation of the Jubilee Year.
Deepening our sense of commitment to the holy preaching, growing in the image of the compassionate Christ, being signs of joy and hope in a world deeply troubled and suffering­- these are the challenges of this graced season. Let us open the doors of mercy in our own hearts and in any and every place where we find ourselves.
A Prayer for this Season:
God of mercy and compassion
You drew us from the dust of the earth and claimed us for Christ in Baptism.
As we enter the season of Lenten mercy, bless us on the path we walk.
Give us wisdom to recognize and open doors of hospitality, compassion and concern, reconciliation and peace, and care for Earth,
the common home that we all must share.
Heal the burdens that prevent us from opening our hearts to one another
and bring us, in peace and unity to the paschal feast of new life.
We offer our prayer in Jesus name. Amen.
(Attached is the prayer.)